200ml | 455ml | 730ml
Vegan
Gluten Free
The original Sriracha Hot Chilli Sauce.
Made from sun-ripened chilli, the sauce is ready to use with roasted or cold cut meats, kebabs or just add to anything to give your dish a sizzling kick.
Ingredients:
chilli 61%, surgar syrup, salt, garlic, water, acids: E260, E330, flavour enhancer: E621, stabiliser: E415, preservative: E202.
Nutritional Information Typical Values per 100ml:
energy 585kJ / 139 kcal, fat 1.2g, fat (of which saturates) 0.2g, carbohydrates 28g, carbohydrates (of which sugars) 22g, protein 2.3g, salt 7.3g
Original Sriracha Sauce
Made from carefully selected and sun-ripened chillies, our Original Sriracha Sauce is considered one of the world's favourite brands of Thai Sriracha hot chilli sauces. With a well-balanced mix of heat, sweetness and tanginess, our Sriracha chilli sauce adds a generous depth of flavour to any meal. 
Popularly used during barbecuing, this hot chilli sauce is great on all kinds of meats including beef, pork, chicken, and seafood. Its rich garlic taste blends in well to make this hot and sweet Thai sauce a delight to the senses. Packing a powerful punch of flavour, our Sriracha sauce also will make for an interesting and delicious addition to your dipping sauces, marinades, and stir-fries. 
All the ingredients to our sauces are carefully grown and harvested from local farms. We pride ourselves in supporting our local communities and ensuring that only the highest quality produce makes its way into our facility. We carefully balance our ingredients to ensure products that will add more deliciousness to any meal prepared. 
From our exciting range of Sriracha sauces that feature bold flavours and savoury decadence to our new condiment range of hoisin sauces and mayonnaise, our team at Flying Goose is dedicated to delivering the utmost quality in condiments to the market. 
We invite you to try out our wonderful range of sauces that have made us a household name around the world. Also, do visit our recipes page to discover the various Asian and continental dishes, drinks and snacks you can prepare with our products.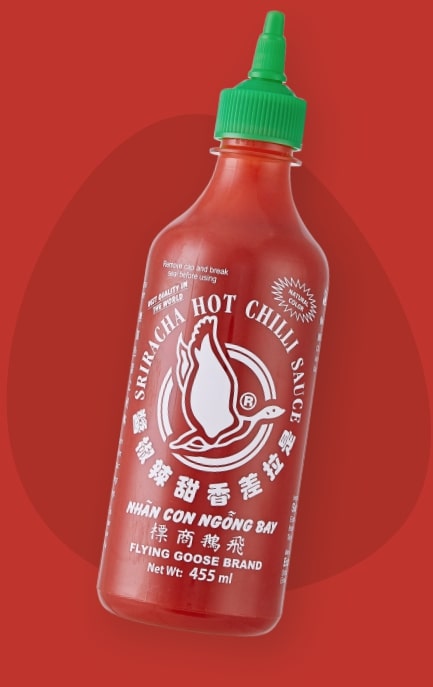 Recipes
Check out our selection of Original Sriracha infused recipes!