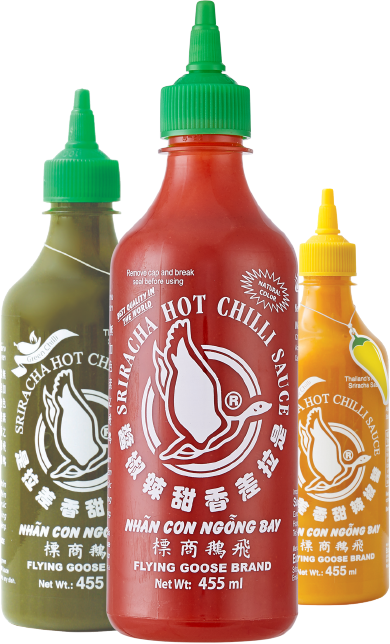 At Flying Goose, we offer flavourful products that make meals more delicious and savoury. Veganism makes people more conscious of what they consume and how this behaviour impacts the environment and its inhabitants. Our vegan spicy sauce products allow our customers to enjoy more flavoursome meals while still adhering to this holistic eating philosophy.
We understand the value in plant-based diets and support their pursuit with a range of sauces designed to make for an even healthier and appetizing dining experience. From soups to salads, stir-fries to veggie burgers, adding a splash of our vegan sauces is a great way to make your dishes more mouth-watering and memorable.
By adding extra spice to your meals, you not only enjoy a better taste to your dishes but also derive many health benefits. Sriracha chillies found in our products like the Super Hot Vegan Sauce and Vegan Chilli Sauce are famed for their ability to boost metabolism, aid weight loss, and strengthen the immune system.
When combined with garlic, as in several of our products, they also help to combat the common cold, lower blood pressure, and manage cholesterol levels. So when you choose any of our Sriracha vegan sauce products you are not only doing a favour to your taste buds but also your overall health.
We offer a wide range of spice levels to choose from. Whether your constitution is delicate or iron-clad, we have taken care to create sauces with varied chilli content, aromatic herbs, and blended ingredients to match any palate. From our mild vegan mayo sauce to the super spicy vegan sauce, there is something to suit everyone's preference. Do check our chilli rating to learn the spiciness of our individual sauces.
Our vegan sauce range contains no animal products whatsoever. Their ingredients have been carefully selected and sourced from local farms. This has allowed us to carefully monitor their growth and harvesting to ensure the best organic practices are maintained.
It has also provided a sustainable means of production that aids local communities while delivering the high quality produce needed for our Flying Goose range of sauces. Every step from farm to plate is carefully considered to ensure that all parties benefit. Our products are also gluten-free for those with additional dietary requirements.
Do visit our recipes page to try some of our delectable vegan options. Made with simple and fresh ingredients, they make for healthy, filling and delicious meals you will definitely enjoy.