200ml | 455ml | 730ml
Vegan
Gluten Free
It's Sriracha but Super Hot. That's why we call it Sriracha Super Hot.
Ingredients:
chilli 70%, sugar syrup, salt, water, flavour enhancer: E621, acids: E260, E330. stabilizer: E415, preservative: E202.
Nutritional Information Typical Values per 100ml:
energy 704kJ / 167 kcal, fat 1.7g, fat (of which saturates) 0.3g, carbohydrates 34g, carbohydrates (of which sugars) 27g, protein 1.8g, salt 8.7g
Sriracha Super Hot Sauce
Looking to give your taste buds a challenge! Then you'll be wanting our Sriracha Super Hot Sauce. Made for the lovers of fiery hot deliciousness, this Super Hot Chilli Sauce always makes for a livelier dining experience. Add a few dabs to your BBQ meats or pair it with mayo for a sensational dipping sauce. Splash a few drops for your steamed pork buns filling or in your Bloody Mary. There are many ways to enjoy this spicy lingering heat. 
With up to 70% sun-dried chillies, this Super Hot Sauce packs quite the punch. Not for the faint of heart, it offers the benefits of the best quality ingredients that work well in adding a rich depth of flavour to an array of both Asian and continental dishes. So whether you are looking to capture the taste of a more savoury hot dog, or desire a richer curry, Flying Goose's Sriracha Super Hot Sauce will bring the heat. 
We source for the freshest and highest quality produce in making our sauces and other condiments. Working in conjunction with local farms, we thoroughly vet all ingredients that go into our products to ensure the best quality results are achieved. This has helped us build a selection of well balanced and delicious sauces that have achieved wide popularity. We offer products that range from mild to super hot, ensuring all palates can find something to enjoy. 
We invite you to visit our recipes page to explore a variety of interesting dishes, snacks, and drinks that can be made more delectable by adding our products.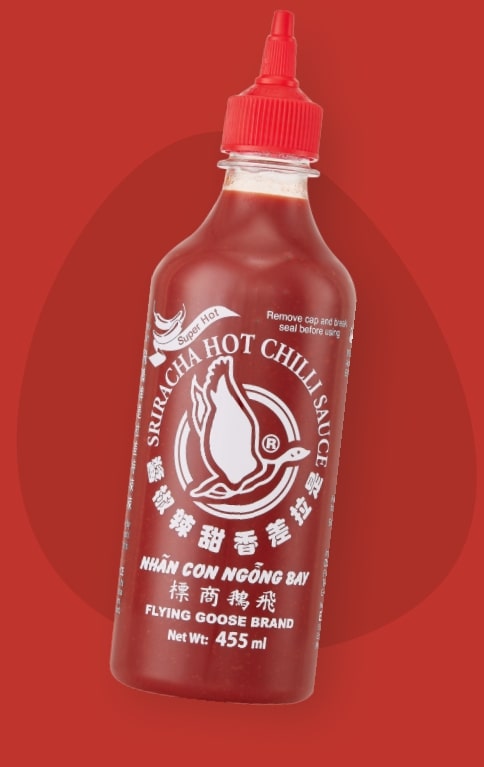 Recipes
Check out our selection of Sriracha Super Hot infused recipes!