200ml | 455ml
Vegan
Gluten Free
Yup you guessed it. It's made with green chillies…
Ingredients:
green chilli 54%, sugar, garlic, salt, water, flavour enhancer: E621, acids:E260, E330, Stabilizer: E415, preservative: E202.
This product may contain traces of peanuts.
Nutritional Information Typical Values per 100ml:
energy 652kJ / 154 kcal, fat 0.4g, fat (of which saturates) 0.1g, carbohydrates 33g, carbohydrates (of which sugars) 31g, protein 2.5g, salt 9.19g
Sriracha Green Chilli
Hidden within the depths of this vibrant green sauce is a perfect combination of heat, tanginess and sweetness. Made from the freshest and highest quality green chillies, our Sriracha green chilli sauce is smoothly blended and delicately seasoned to achieve that wonderful flavour that makes it ideal for use on various meats. You can add it to stir-fries, soups, marinades, dipping sauces, and even a Bloody Mary to deliver that touch of fieriness that makes any dish even more savoury.  
Though green chillies are known for delivering milder heat, our Sriracha green chilli still has quite a kick to it. More than just flavourful, this sauce is a wonderful source of multiple health benefits. Green chillies are great for improved digestion, lowering blood sugar, reducing inflammation, boosting vision, and much more. So not only are you doing your taste buds a favour by adding this green chilli sauce to your dishes, but you also doing good to your whole body. 
At Flying Goose, we source our ingredients and herbs from local farms to ensure the highest level of freshness and to support our local communities. We undertake a rigorous inspection of all produce to ensure the highest quality results. Our range of top quality Sriracha sauces and other condiments are a delight to the senses and reflect our devotion to imparting delicious indulgence to the dishes and kitchens of our clients. 
We encourage you to visit our recipes page for a selection of exciting and delectable Thai and continental dishes, drinks and snacks that are made all the more delightful through the inclusion of our condiments.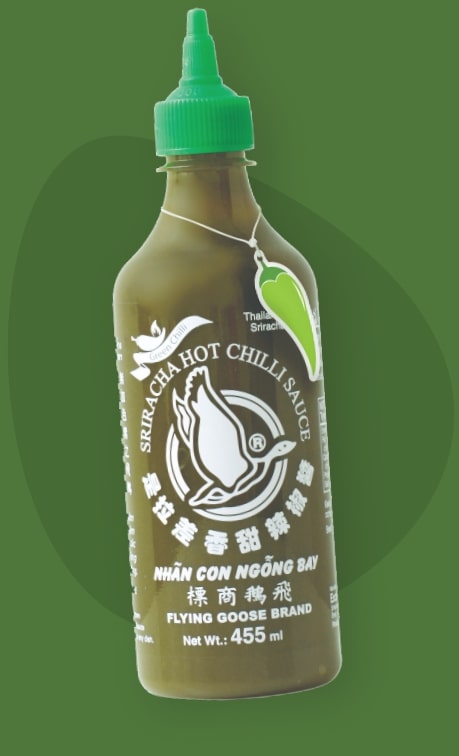 Recipes
Check out our selection of Sriracha Green Chilli recipes!