Super für Sushi, Salate, BBQs, Sandwiches und allen möglichen anderen Kreationen…
Inhaltsstoffe:
water, chilli 20%, SOYbean oil, sugar, distilled vinegar, modified corn starch, salt, stabiliser: E415, garlic, MUSTARD seeds, acidity regulators: E260, E330, flavour enhancer: E621, preservative: E202, antioxidant: E319.
Nährwertangaben – typische Werte pro 100ml:
energy 1170kJ / 281 kcal, fat 19g, fat (of which saturates) 2.8g, carbohydrates 26g, carbohydrates (of which sugars) 17g, protein 0.9g, salt 4.1g
Sriracha Mayo Sauce
Made to cater to those with a milder constitution, our Sriracha Mayo Sauce blends the heat of chillies with the coolness of mayo to create a warm and flavourful condiment. It makes for a delicious dipping sauce for all kinds of seafood and can be added to sandwiches for little extra kick. The mild chilli taste also does well in bringing out the flavour of salads and as an addition to BBQs. 
With high notes of garlic and mustard seed flavour, this spicy Sriracha mayo offers a gentler sampling of heat Thai Sriracha chillies are renowned for. Besides being mild on the palate, this vegan Sriracha mayo sauce is great for those looking to exclude animal products from their diet. As a vegan sweet chilli mayo sauce, it offers an easy way to make meals more interesting and savoury.  
All ingredients to Flying Goose's sauces are carefully sourced from local farms. We thoroughly vet all produce to ensure the highest quality and freshest produce goes into our production lines. Making use of the famous Thai Sriracha chillies, we offer a range of mild to hot condiments that can be used in raw or in cooking to add whatever level of heat that is desired. 
Be sure to check out our recipes page for a rich sampling of both Asian and continental dishes, drinks, and snacks that can be made with our sauces. Discover the wonderful world of flavour that comes with making Flying Goose's sauces an everyday part of your meals.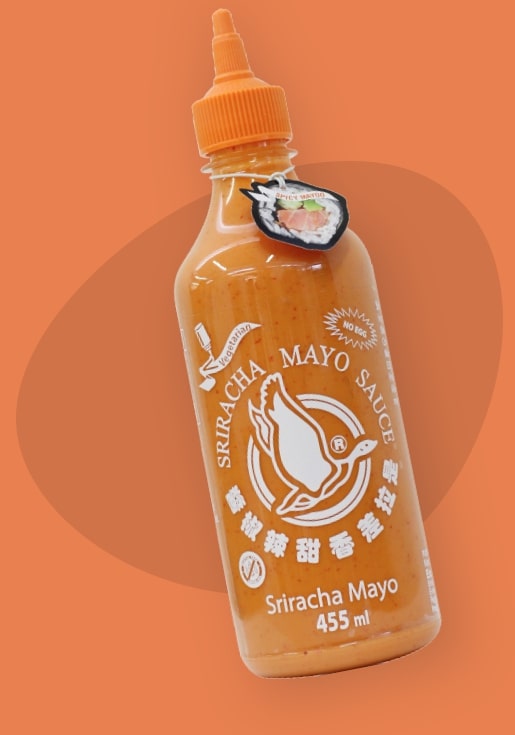 Rezepte
Schau dir unsere Auswahl an Rezepten mit Sriracha Mayo an!