Dunkel, süß und unglaublich lecker – diese Sauce passt gut zu gegrilltem oder geröstetem Fleisch und Gemüse.
Inhaltsstoffe:
water, sugar, SOYBEAN paste (SOYBEAN, WHEAT flour, salt, water, flavour enhancer: E621, preservative: E211), salt, distilled vinegar, modified tapioca starch, garlic, colour: EE150a, SESAME oil, star anise, preservative: E202.
Nährwertangaben – typische Werte pro 100ml:
energy 797kJ / 188 kcal, fat 2.3g, fat (of which saturates) 0g, carbohydrates 40g, carbohydrates (of which sugars) 36g, protein 1.7g, salt 4.3g
Hoisin Sauce
With a perfectly balanced mix of dark, sweet, tangy, and delicious, Flying Goose's Hoisin Sauce adds bold flavour to your favourite grilled meat and veggie meals. A great choice for adding in-depth savoriness through marinating, this sauce also makes for more delicious stir fry and noodles. 
The sweetness of the star anise and nuttiness of the sesame oil is a great complement to the umami-ness of the soybean. Sticky and sweet, this condiment can also be enjoyed straight from the bottle or as a dipping sauce. From green beans and pumpkin to prime rib steak and duck, there are innumerable dishes that benefit from a splash of our Hoisin BBQ sauce. So whether you want to recreate Asian cuisine or experiment on something more continental, our Hoisin Sauce Thailand will make a wonderful addition to your pantry and meals. 
Made using locally grown and harvested ingredients, all our Flying Goose sauces are a bountiful taste extravaganza that hits just the right spot.  Mouthwateringly delicious and carefully seasoned, our sauces are a joy to the palate of even the most discerning diner. Best known for our line of amazing and tasty Sriracha sauces made with locally grown chillies and herbs, our team at Flying Goose has since added to its condiment product line with the addition of Hoisin and mayonnaise products. 
Be sure to explore our new and old product offerings to enjoy the full spectrum of deliciousness that makes Flying Goose so memorable. Also, check out our recipes page to discover the many amazing meals you can prepare using our products.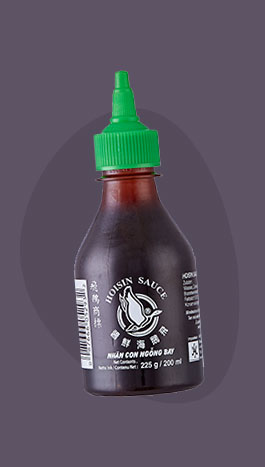 Rezepte
Schau dir unsere Auswahl an Rezepten mit Hoisin Sauce an!